Offer your Allied Health Professionals online access to a vast library of CEs focused on their specialties
CEConnection is a single source of CE for allied health professionals who want to improve the quality of care they deliver, their skills and their careers. Only CEConnection offers the widest variety of hospital-based professions available, including CE for behavioral/psychiatric health professionals, which is difficult to find from a single provider.
Click here to get started today
Current courses are available for the following allied health specialties:
Cardiovascular Technician
Case Manager
Dietician
Health Care Quality Professional
Pharmacist
Speech-language Pathologist
Clinical Laboratory Science
New Allied Health Professional Focused Courses are Added Every Day
New courses are added monthly and additional specialties will be added soon. Schedule a demo today to learn what CEConnection can offer your healthcare organization.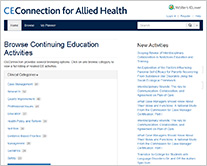 Request a Demo of CEConnection for Allied Health Professionals
Learn about the wide variety of CEs offered for all hospital-based professions.