Lippincott CMEConnection — Offering hundreds of high-quality CME activities for physicians.
Lippincott CMEConnection is the premier, online destination for physicians who rely on their employer to provide quick and easy access to hundreds of high-quality CME activities. CMEConnection content is created by leading physicians in a variety of key specialties, designed to help your physicians stay current on advances in health care and effectively apply learning to practice.
CMEConnection is intuitive and easy to use — search CME by specialty, then plan activities, track your progress, set reminders and access your certificates. This is CME on their schedule — accessible anytime, anywhere, from any device.
Click here to get started today
Meeting your licensure and certification requirements has never been easier!
Coverage of varying specialty and sub-specialty areas, including Anesthesiology, Emergency/Critical Care, Endocrinology, Family Practice, Gynecology, Infectious Diseases, Neurology, Obstetrics, Oncology, Orthopedics, Pain Management, Pediatrics, Psychiatry, Radiology, Surgery, Wound Care and more
Approved and accredited by Accreditation Council for Continuing Medical Education (ACCME) and other leading accrediting organizations
Convenient — access to hundreds of approved CME activities in a single search, available on demand and on the go
Affordable, pay only for tests you take
Quickly navigate state requirements, access certificates, plan your CME and more
CME developed by the trusted experts at Lippincott and Wolters Kluwer
CME on Lippincott CMEConnection is produced by a team of healthcare education specialists at the Lippincott Continuing Medical Education Institute (LCMEI), an accredited CME provider since 1993. We have certified more continuing medical education than any other nationally accredited publisher in the United States, serving more than 52,000 learners. We create tools and solutions that make CME accessible, and that help professionals apply essential data in daily practice.
All LCMEI CME is approved and accredited by Accreditation Council for Continuing Medical Education (ACCME). In fact, the ACCME council has awarded us the status of "Accreditation with Commendation", a designation only awarded to the top 25% continuing education providers.
Learn more about accessing hundreds of CME for Physicians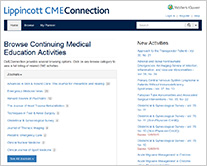 Request a Demo of CEConnection for Physicians
Connecting physicians with relevant, specialized, practice-oriented learning